---
• Healthy Slim set combo • Slenderiiz • weight loss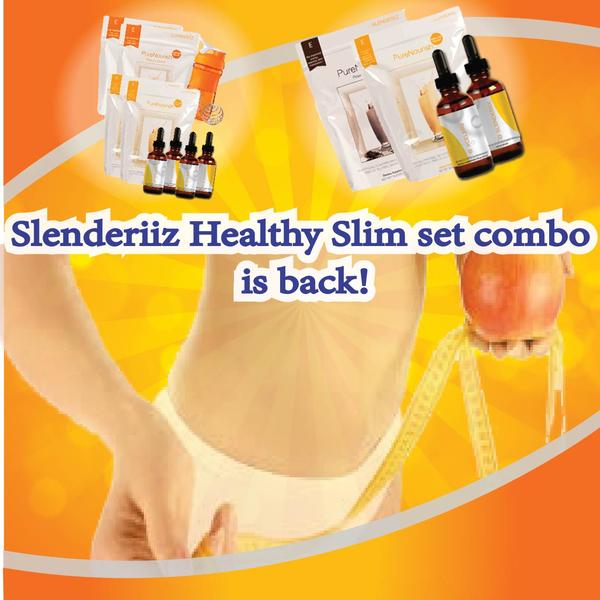 Want to lose weight in a healthy way? Hard to lose the fat in the stubborn area? Slenderiiz Healthy Slim set will be able to help you out. 1 SET: Slenderiix & Xceler8 + PureNourish Natural + PureNourish Beauty or Power Boost 2 SETs: 2x Slenderiix & Xceler8 + 2x PureNourish Natural + 2x PureNourish Beauty or Power Boost + Free Shaker Bottle How does Slenderiiz work? Slenderiiz & Xceler8: The One-of-A-Kind Revolutionary Accelerated Weight Loss Solution Alleviates hunger Flushes fats & toxins from your body Supports speedy weight loss Target abnormal fat stores (e.g. stubborn belly, hips & thigh)...
---
• HCG • weight loss • weight management
Losing weight is one of the most popular New Year's resolution. Gaining weight is easy, but losing the extra pounds in a healthy way is challenging. Eating healthy and regular exercise are important aspects of keeping fit and healthy. However, it is not uncommon to hear comments like 'I have been eating healthy and doing regular exercise but I don't lose a pound,' or 'I lost but I gained the weight back!' There are different methods of weight loss regimen on the market. Many people are CONFUSED about weight loss drops, thinking they are equivalent to HCG. HCG is Human...
---
• 腸道健康 • 益生菌 • weight loss
GProbiotics (good bacteria) has been a hot and popular topic. Gut health has been show to be directly related to mental health, immune health, respiratory health and more. Clinical evidences has demonstrated probiotics help to promote weight loss and healthy weight. A group of 125 overweight men and women were put on a 12-week weight loss diet and then followed by another 12-week period targeting to maintain their weight. Clinical study results indicated that the women group who were on probiotics lost an average of 4.4kg (almost 10 pounds) vs 2.6kg (about 6 pounds) in the placebo group (not on...
---
• beverage • 消化酶 • digestive health • food • 腸道健康 • health care • holiday • 益生菌 • vitamin b12 • weight loss • weight management
It's the time of the year we attend parties, family and office gatherings with lots of food. It's hard to resist good food and yet gaining weight seems to be unavoidable. Is this true? Let's share some tips here to help prevent weight gain. There are a few practical tips to share. Have a light snack before you go for the party (e.g. an apple, a banana or a glass of healthy & yummy protein shake). Never go to a party hungry. Pick up a small plate instead of a big one. For beverages, choose a glass of wine, or...
---
• Anemia • B12 Deficiency • b12injection • energy • needle • newsletter • vitamin b12 • weight loss
Vitamin B12 is an important nutrient that performs different functions in our body. B12 is indicated for Vitamin B12 deficiency, pernicious anemia, people who have difficulty absorbing B12 orally due to diseases such as Crohn's or Celiacs, patients who have had gastric bypass surgery or who are on long term acid suppression medication and/or someone on a vegetarian diet. Vitamin B12 also is also commonly incorporated into weight loss or weight management programs to help regulate the metabolism of carbohydrates and fat. "IM or SC? Which route should I use to give myself the B12 shot?" The most common form...