New Nordic Hair Gro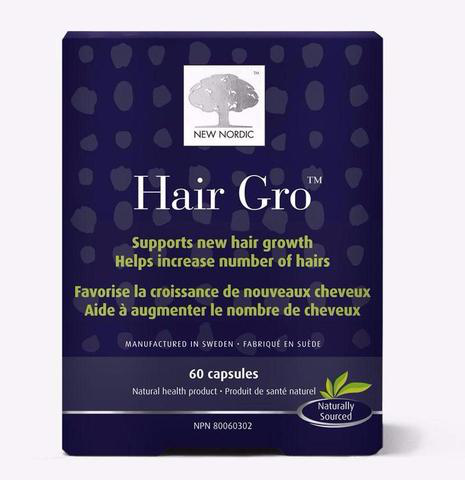 ---
It is known that supplements can increase hair health and volume to some degree, but to find a supplement that can increase hair growth strongly is rare. Still, this is what scientists are finding when studying palm fruits.
Features:
Promotes new hair growth
Helps increase hair count
Nourishes the hair follicles
Clinically proven and patented ingredients
INCREASE NEW HAIR GROWTH
A recent study was done in Malaysia with 38 people suffering from hair loss (alopecia)*. They were told to take a palm fruit extract containing a special ratio of "super-antioxidants" called tocotrienols.
THE RESULTS WERE SURPRISINGLY GOOD!
The scientists in the study monitored an area equal to 2x2 cm for the exact amount of hair strands in this area. They found that the antioxidants work specifically and strongly to reduce scalp oxidation, a condition linked to balding. In sufficient time, this may allow for new hair to grow and hair count to increase. Most of the group showed increases of 10-25%, but 40% of the group had more than 50% increase in hair growth. Only one person did not have any results.*
NATURALLY SOURCED INGREDIENTS
TOCOTRIENOLS
(Elaeis guineensis L.)
This is the main active ingredient, a vitamin E derivative and potent antioxidant, clinically proven to increase new hair growth and reduce oxidative stress in the scalp.
APPLE EXTRACT
(Malus domestica Borkch)
The apple extract in these tablets has been made with selected Nordic apple varieties as they contain exceptionally high amounts of procyanidin B-2, a growth-promoting factor for hair follicles.
HORSETAIL EXTRACT
(Equisetum arvense L.)
Silica, which is provided by horsetail extract, is known to help improve brittle hair and nails. It increases hair tensile strength and elasticity.
SUPPLEMENT FACTS
DAILY DOSE (ADULTS): Take 2 capsules per day, with food, and a few hours before or after taking other medications. Use ideally for 8 months to reach full effect.
CAUTIONS & WARNINGS:For adults only. Consult a health care professional prior to use if you are pregnant or breastfeeding. Do not use if blister package is broken. Keep out of reach of children.
| MEDICINAL INGREDIENTS | PER CAPSULE |
| --- | --- |
| Apple extract (Malus domestica L.) (5:1) | 150 mg |
| Millet extract (Panicum milaceum L.) (5:1) | 125 mg |
| L-methionine | 25 mg |
| α, γ-, θ- Tocotrienols (Elaeis guineensis L.) (Fruit) | 50 mg |
|    α -Tocopherol (Elaeis guineensis L.) (Palm oil) | 14.4 mg |
|  Silicon (Horsetail (Equisetum arvense L.) aerial parts) | 7.76 mg |
|  Zinc (Zinc oxide) | 5 mg |
|  Biotin | 0.24 mg |
This product is free of: Sugar, salt, gluten, yeast, soy and dairy products and it is formulated without the use of preservatives, flavors or colors of any kind. Suitable for vegans and vegetarians.
Manufactured in the EU, under pharmaceutical control of purity and content.  Not tested on animals. This product is not intended to diagnose, treat, cure or prevent any disease. Results may vary. 
Always read and follow instructions prior to use.
*Tropical Life Sciences Research 2010 "Effects of Tocotrienol Supplementation on Hair Growth in Human Volunteers"Beoy, Woei et Hay, University Sains Malaysia.
---
更多相關產品