Adored Beast Jump for JOYnts Extra Strength | Joint Support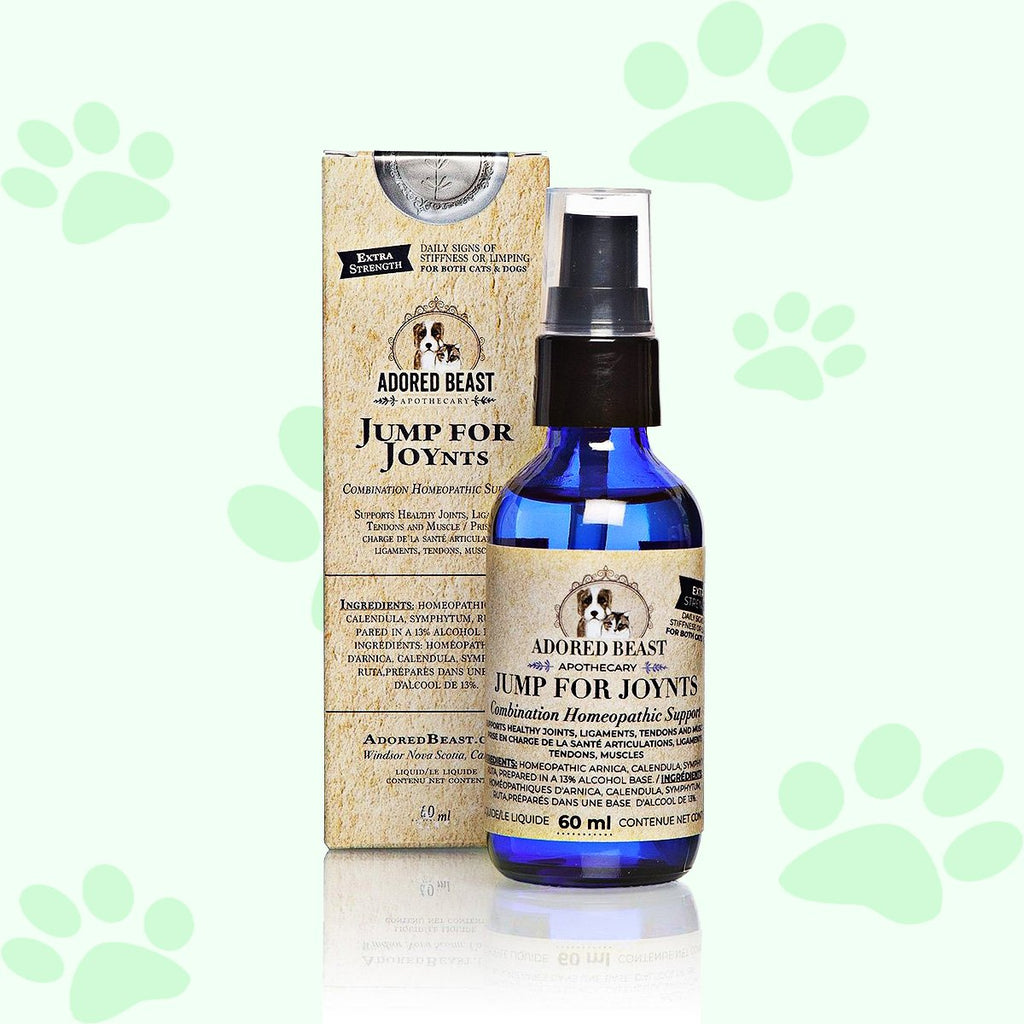 ---
Jump for JOYnts Extra Strength | Joint Support
"I can't recommend this product strongly enough. There is no doubt in my mind it has made my dog much, much more comfortable."
–Jack G, Jump for JOYnts customer
---
INSTRUCTIONS
1 Dose = 4 Pumps (0.5 ML)
Healthy Animals


4 pumps directly into mouth or pump onto spoon and deposit directly to mouth.

Chronic Joint Problems, Arthritis & Acute Injury

One dose (4 pumps) given twice per day for two weeks. After two weeks: Give one dose once or twice per day as needed.

Maintenance


One dose 1-3 times per week or as needed. For very arthritic dogs the dose may need to be given once a day ongoing if the improvement is seen.
Safe use in pregnant animals or animals intended for breeding has not been proven. If animal's condition worsens or does not improve, discontinue use and consult your veterinarian.

Additional Notes
Do not refrigerate and store away from appliances and electronics.
---
INGREDIENTS
Arnica
Arnica has been used for centuries for trauma, inflammation, and bruising. Arnica contains selenium and arnica ash is also rich in manganese. Both are powerful anti-oxidants in the human body but manganese works as a primary element in healthy bones, wound-healing, and the metabolism of proteins, cholesterol and carbohydrates. Thoughts are that this is one of the contributing factors to why Arnica facilitates healing, acting in combination with the other plant chemicals.
Calendula
With abundant amounts of flavonoids, Calendula's plant-based antioxidants protect cells from being damaged by unstable molecules called free radicals. It has been regularly used to fight inflammation, viruses, and bacteria. It is used to treat stomach upset and ulcers, as well as topically to help wounds heal faster, possibly by increasing blood flow and oxygen to the affected area. The dried petals are used in tinctures, ointments, and washes to treat burns, bruises, and cuts, as well as minor infections.
Symphytum
This is a homeopathic remedy indicated for injuries to bones, cartilage, tendons, and periosteum. It stimulates callus formation and improves reunion of the bone, and has had an extensive herbal use where it is more commonly known as 'knitbone' because of its remarkable ability to rapidly knit broken bones together. Symphytum Officinale is a key remedy for fractures (broken bones) and other injuries to the bone and its periosteum (the outer connective tissue which covers the bone).
Ruta
Commonly known as rue, this homeopathic remedy is indicated for soreness in the bones, tendons, joints, and cartilage. It is good for sprains, injuries, strains, bruised bones, and pulled ligaments. Ruta Graveolens (Ruta) is useful for rheumatic and connective tissue problems, especially following chronic overuse, strain, or injury of joints or tendons. Small tendons of the eye may also be affected.
Full list of ingredients
Active Ingredients:
Arnica
Calendula
Symphytum
Ruta

Inactive Ingredients:
Demineralized water
Prepared in a 13% Alcohol base
---
PRODUCT IMAGES
| | |
| --- | --- |
| × | × |
| × | × |
---
FREQUENTLY ASKED QUESTIONS
Julie Anne Lee, DCH RCSHom

Adored Beast Apothecary's founder, homeopath Julie Anne Lee, is here to answer your questions.
Her life's work is to help all animals live healthier, happier, longer lives.
Can I use Jump for JOYnts as a prevention for future joint problems?
You can use Jump For JOYnts as prevention in theses case:

For large breed dogs over the age of 6 recommend one dose twice a day for two days and then once per month (use the regular strength product)

If your dog does agility and has a particularly strenuous run you can give a dose of regular strength right after

If your dog is middle age and is an agility freak (so focused that they feel no pain when they maybe should overextend themselves regularly) it is a great idea to do the regular strength JFJ twice a day for two days once a month.

If your dog has EVER had a limb injury but has no residual problem it is helpful to do regular strength twice a day for 2 days and repeat that once every 4 months.
What conditions can I use Jump for JOYnts for?
Stiffness/soreness, degenerative diseases, limping, ACL injuries, arthritis, bone injuries, muscle injuries, post-surival care, and more!
How do I clean the pump if it contacts the mouth of my pet?
You can wipe the pump down with alcohol on a clean paper towel.
What is the shelf life of Jump for JOYnts?
4 years
---
---
更多相關產品